Egypt is a beautiful country, and when planning your trip, you may be at a loss as to where to go and how to start planning your time. In this blog post, I will share the best 7-day Egypt trip, highlighting all the best sights in Egypt during the week. I will also discuss some basic planning techniques and information to help you prepare to visit this fantastic destination!
When is the best time to visit Egypt?
If your focus is on visiting major outdoor attractions, I suggest you travel to Egypt between October and April. Around that time, you will experience good weather, and it won't be unbearably hot.
The busiest tourist season is between December and February, so that it may be more active and more expensive during that time. I went to Egypt in April, and the weather was good.
If you plan to spend a lot of time visiting the country, I will avoid visiting during the summer because it is scorched and hot, making the trip very unpleasant.
Is Egypt safe
It is impossible to say that any country is entirely safe because bad things can happen anywhere in the world. I can only share my honest personal opinion with you.
All I can say is that since my time in Egypt, I have always felt very safe, welcome, and comfortable. Learn about common travel scams and current events before heading to Egypt. View authorized travel recommendations for that country.
If you are not used to traveling alone, I suggest you book a group tour. In this way, you don't have to worry about your team as usual. It also means that you don't have to plan many trips. You can sit back and enjoy the journey.
How many days to spend in Egypt
If you want to appreciate the highlights of Egypt, seven days is enough. One week is the best time to visit Egypt. It lets you see Cairo, Aswan, Abu Simbel, Luxor, and other places while cruising the Nile.
This trip will be packed with people, most days you have to get up very early, but it allows you to see all the main attractions of this country in a short period, which is worth it.
As for the longer travel time in Egypt, you can add a few days or even a week to beach resorts near the Red Sea (such as Hurghada or Sharm el-Sheikh). In addition, these destinations are very suitable for diving. After a busy week of sightseeing, relaxing at the resort is the perfect ending to your stay in Egypt.
Day 1: Arriving in Cairo
It is your first day in Egypt. You will most likely arrive at lunchtime and will be very tired after a long trip. Spend a relaxing day at the agyptra of your choice in Cairo.
After a busy day of travel, rest and adapt to the environment in the evening and have dinner near the hotel. In the next Egyptian Adventure Week, you will need a lot of energy.
Where To Stay in Egypt?
What could be better than staying in a hotel where you can see the Great Pyramid while having breakfast? These are the best choices!
Cairo Mena House Marriott Hotel
If you want to enjoy the magnificent view of the pyramids while having breakfast, this is probably one of the most popular hotels. It is less than half a kilometer (0.62 miles) from the complex. Surrounded by 40 acres of green gardens, the hotel has a gym, swimming pool, and spa.
Panorama Pyramids Inn:
A 4-minute walk from the Sphinx, this is another hotel gem with stunning views of the Pyramids. This hotel has a roof terrace to enjoy a sound and light show without paying the entrance fee.
Opinion
Pyramid and Sphinx. You can sit on the roof terrace and enjoy the view while drinking complimentary tea. They will even organize a free shuttle service from the airport to pick you upon arrival.
Day 2: Exploring Cairo
Spend your first day exploring Cairo, the busy capital of Egypt. Cairo has many interesting sights to explore. If you want to learn more about the history of Egypt, the Egyptian Museum is a great way. In the morning.
There, you can see more than 12,000 Egyptian artifacts, including the pure gold mask of King Tutankhamun weighing 11 kilograms (24.25 pounds), and then head to Cairo Tower.
It is a free-standing 187 m (614 ft) concrete tower with incredible city views. Another exciting attraction to visit in Cairo is Saladin Citadel or also known as Cairo Citadel.
It may be the most popular illegal old monument in the Egyptian capital. You can quickly get there by Uber from your hotel. There are three mosques on the ground of the fort.
The scenery there is incredible. Don't forget to try a few different places in Cairo that offer local Egyptian cuisine. All the meals we tried in Egypt were great.
We tried and loved some of the local dishes were lentil soup, falafel, ful medames, and Fattah. I highly recommend your restaurant called Felfel. It is a very famous place, built in the alley between two buildings. It was there in the 1960s. The decoration inside is very impressive and very beautiful.
Another great way to experience Cairo and try more Egyptian food is to take a food tour. In this way, you will taste more local dishes and meet many amazing people in the process. I recommend this Egypt to visit at least five different food stations and get inside information about Cairo.
The food that deserves to be number one on my list is koshary (also spelled koshari or kushari). It is the national dish of Egypt and trendy street food.
Kushari is mixed rice, macaroni, pasta, and lentils, topped with chickpeas, tomato sauce, and crispy fried onions. So basically, they just put my favorite carbohydrates and protein together and made a meal with them. Koshari originated in the mid-19th century.
We tried Koshary Abou Tarek, and it was the only dish they prepared there. Enjoy looking for some fresh local desserts and explore the various shops in Cairo. No matter what you buy from the market, don't forget to bargain.
Day 3: Aswan
If you only spend a week in Egypt, then a luxurious Nile cruise is a great way to travel through the country. Before starting our Nile cruise, we will visit the High Dam, an engineering marvel built in the 1960s to prevent annual floods.
The dam is 3,600 meters long, 980 meters thick at the bottom, and 111 meters high at the highest point. Lake Nasser, the world's largest artificial lake, is piled up behind the dam, and it is said that the lake is full of crocodiles. The dam provides irrigation water and electricity for the entire territory of Egypt.
It is one of the most critical engineering landmarks in the country, which means that the Egyptian military closely protects it. Plan to stay here no more than 10-15 minutes. Next, we board a traditional speedboat run by Nubian villagers to visit the Philae Temple.
You can even see water stains when the temple is submerged. This majestic temple is dedicated to the goddess Isis and her family, although the golden statues in the sanctuary have been looted and melted.
Day 4: Sharm El-sheik
By day 4, you may start to feel tired, but don't let this stop you from traveling to Sharm el-Sheikh. Without a doubt, this is my favorite excursion in Egypt, and it is also completely optional.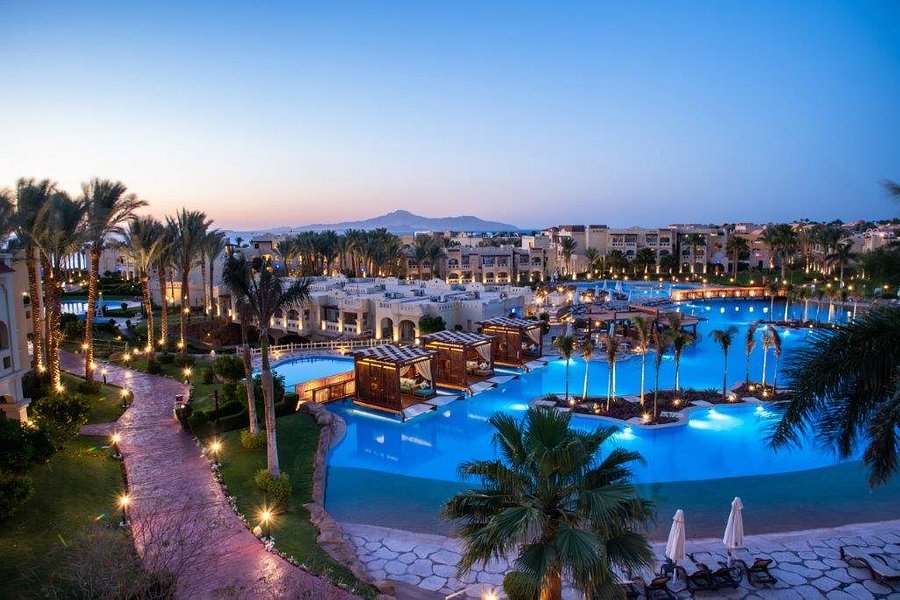 Each sculpture is carved directly on the mountain, which is simply amazing. You can travel to Sharm el-Sheikh by plane or bus (we choose the latter).
If you are just too tired to take the three-hour bus, that's okay! I suggest sailing around the island (Kitchener Island's botanical garden is lovely), visiting the now-abandoned 7th-century St. Simon's Abbey, or buying souvenirs at the local open-air market.
Day 5 in Marsa Alam
Spend your holiday in Marsa Alam, enjoy the best day trip, explore the desert with the locals on a safari tour. Dive underwater on the dolphin house reef in Marsa Alam, Observe rare fish snorkeling and snorkeling with beautiful dolphins, and then see a little more Egypt.
Fly to Cairo, visit the Pyramid of Cheops, Chefren, the Great Sphinx of Mykreinus, and the Coptic Cairo or spend a day in Aswan to visit: Temple of Philae, Temple of Abu Simbel, Unfinished Austria Break or drive to Luxor to visit: Luxor Temple, Karnak Temple, Hatshepsut Temple, and more amazing monuments.
Day 6: Visiting Luxor
Today, you will likely get another optional tour in the early morning to the Temple of Horus in Edfu. We departed at 5 in the morning and got there in a carriage.
This temple was built between 237 and 57 BC. It is one of the best-preserved monuments in Egypt. Dedicated to the vengeful son of Horus, Osiris and Isis, take a break after your morning tour as your ship sails to Luxor, which was once the capital of ancient Egypt.
They will spend the night in Luxor, which gives you an excellent opportunity to explore the area. Visit the great temple complex of ancient Egypt-Luxor Temple, built by Ramses II around 1400 BC. C.
It is best to visit in the morning before the crowds or in the evening to taste Egyptian cuisine. If you are lucky, you will also have the opportunity to see the sound and light show of Karnak Temple. It is a fantastic night activity that you can add to your Egypt In itinerary.
Day in 7 Hurghada
You will spend your last day in Hurghada, and planning is the key to enjoying as many attractions as possible. From booking Red Sea snorkeling and diving trips to embarking on a desert adventure, here is our best secret to experiencing this Egyptian resort city in 24 hours.
Morning: Soak Up the Red Sea
A trip to Hurghada without experiencing the Red Sea and white sand beaches is incomplete. Snorkelers can take a full-day boat trip to various snorkeling locations, including coral reefs, where they can explore underwater, watch dolphins and take a banana boat ride.
If you like to stay dry, choose a submarine trip. Rather than wearing a mask, climb to the viewing window and admire the corals and rainbow-colored fish. Whether you are a novice or an experienced diver, the waters of Hurghada can attract you with excellent visibility and abundant marine life.
Participate in an open water cruise so that certified divers can explore the depths under the guidance of a guide, while beginners can enjoy onboard lessons and introductory diving.
Afternoon: Exploring the City and Desert
Many boat tours end in the afternoon, allowing you plenty of time to explore on land. An afternoon tour of Hurghada will take you to visit the city's top attractions, such as the Coptic Cathedral and the fishing village. Or, if you are ready for a high-speed adventure, you can take an all-terrain vehicle (ATV) to the desert, roar on the dusty trails, then stop for tea and camel rides.
At the same time, if you want to experience a more moderate activity, you can stroll through the Great Hurghada Aquarium, where nurse sharks, rays, coral fish, and other marine life live in the water tanks and clear corridors.
Evening: Sunsets and Shows
If you choose the afternoon ATV tour, you can continue into the evening and stop to take pictures before the barbecue dinner and folklore shows under the stars. Otherwise, you can book dinner shows and dinners to relax and enjoy classic Egyptian entertainment.
Dinner starts with a meal and ends with exciting horse riding, belly dancing, and acrobatics on the open-air stage. If this does not meet the requirements, you can take a 4×4 trip to the desert and taste a Bedouin dinner after the sun goes down. After the cyclone ride, it's time to return to Cairo to enjoy your food. Fly Home. Consider taking the train and taking time to reflect for a week.